The day is saved, thanks to... DeviantSerpent!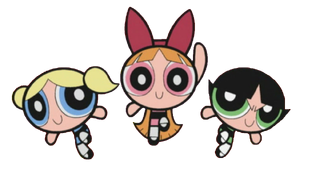 Welcome to my Powerpuff Profile!
Feel free to drop me a question on my Talk Page if you need anything!
ABOUT ME
Oh, well. I've loved this show since I was very young. Still recall the first episode I've seen (Telephonies) I used to watch The Powerpuff Girls every night. Although, that was back when Cartoon Network was good lol. I still watch it often today, usually online or off my DVDs. Sadly, PPG no longer airs on Cartoon Network. Unless you count Cartoon Planet, then yeah
My favorite Powerpuff Girl is Blossom! ;)
I like many other Cartoon Network shows like Courage the Cowardly Dog, Ed, Edd n Eddy, Dexters Laboratory and Johnny Bravo. I also edit on those wikis as well, incase you wanna know. In my spare time (when I am not editing Wikia) I often watch many Cartoon Network 90s programs. I also love many of the new CN programs. Mainly Gumball, Regular Show and Adventure Time! :)
My favorite villain is HIM! ;)
If you would like to talk with me about anything Powerpuff Girl, Cartoon Network, or Wiki related - Use
this

! :)
Psst, I'm watching PPG daily again :D and I suggest you do too ;)
My Favorite Characters
Blossom: My favorite Powerpuff Girl, also my favorite character in the show. She is way awesome than any other character ;) Her Ice Breath is amazing. When I was younger, I remember me saying
"If I could have one superpower, it would totally be that"
Buttercup: My second favorite Powerpuff Girl ;) has a mean attitude (which makes her unique) unlike some of the other characters. Namely, Blossom and Bubbles
Bubbles: My least favorite Powerpuff Girl. Still with me as one of my favorite characters though ;) it's mostly her cuteness that overwhelms me
HIM: My all-time favorite villain in the series. Even though he's quite disturbing, he is still one of the most funniest characters in the show. Glad he made enough appearances, unlike some good villains (i.e Gangreen Gang)
Ace: Yep, ace. I like him because he's funny and doesn't like to take much crap from the rest of the gang lol
Mojo Jojo: This evil monkey is hilarious. Notice by now that I like most of the hilarious characters lol. On top of that, he is very clumsy, yet, one of the high ranking villains in the series
Professor: Almost every episode including him, something hilarious happens. He was most funny in Mommy Fearest which also happens to be one of my favorite episodes!
The Mayor: Hilarious, calls the girls up just to open pickle jars. Nuff said XD
Bullet: I have a Pachirisu is Pokemon: White Version thats named after him :3