Insect Inside
Comments

2
673pages on
this wiki
"Insect Inside" is the first produced episode of season one of The Powerpuff Girls, aired as the first episode on November 18, 1998.
Plot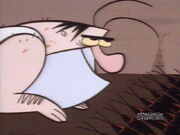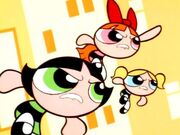 Bug-loving loser Roach Coach has devised a plan to take over Townsville - and eventually the world - with his army of cockroaches. However, the girls, despite their fear, feel that it's wrong to kill bugs just because The Girls are at first reluctant to fight the roaches, feeling that it's wrong to kill a bug just because you think it's gross, but eventually get over their fears and battle the roaches and win, only to discover that Roach Coach is really a robot---controlled by a roach. So, the true Roach Coach ends up jarred and jailed.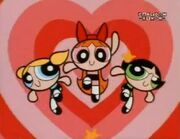 Songs
Trivia
Production on this episode began long before the series premiered.
This episode was supposed be the 1st one to air because it was produced 1st, but because of the out of production order that Cartoon Network airs, it aired 2nd.
When we first see the tall building on the outside, the red window is 1 level down from the top, but when we view the building the second time, when Roach Coach is yelling, the window is on the top level.
Despite having his robot body destroyed, Roach Coach makes several cameos in later episodes.
This episode and furthur episodes of the show were hand-drawn and produced at Rough Draft Studios in South Korea.
It then aired on The WB Television Network on May 25, 2002, four years after it aired on Cartoon Network.
The Utonium's hallway is unusually long.

Main Article: Insect Inside Transcript