Ima Goodlady
Real Identity: Sedusa
Name:
Ima Goodlady
Real Identity: Sedusa
Gender:
Female
First appearance:
Mommy Fearest
Episode count:
1
Voice actor:
Jennifer Hale
Ima Goodlady
was one of Professor Utonium's ex-girlfriends who was actually
Sedusa
in disguise.
History
Ima Goodlady met Professor Utonium in the supermarket while he was shopping with the girls. The girls we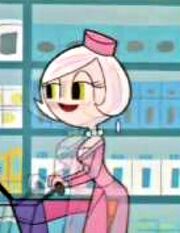 re busy telling the professor what kinds of cookies they wanted. He was so involved that he didn't see where he was going and accidentally crashed into Ima's shopping cart. He began to apologize, but once he saw how beautiful Ima was, he was literally at a loss for words. The girls then proceeded to introduce themselves, but Ima says she already knows who "these wonderful girls" are, but she wanted to know who the professor was, describing him as a "strapping gentlemen."
The Girls then wanted to arrange a date between these two lovestruck people and Ima seems very into it. Blossom suggested they go out on Saturday and Buttercup suggested Sunday, but then Bubbles butted in and suggested Friday. Ima agreed that Friday was the best one for her. Then the girls suggested times, with Blossom suggesting 8:00, Buttercup suggesting 10:00 and Bubbles suggesting 7:00, which also happens to be their bedtime.Ima picked 7:00.
When the Professor goes out on the date, it must have gone so well that he asked Ima to move in with him and the girls, but soon their lovely home life begins to change, with Ima saying that the girls can't watch TV and that Bubbles can't have Octi or the hall light when they go to bed.
Ima also told the girls that they were no longer allowed to fight crime and brutally grounded them. It was late at night when this happened and the Professor woke up and Ima told him that she was worried about the girls going out late and that she punished them for it, whereupon she fainted in the professor's arms. The Professor shakily grounded them after that incident.
Later, Ima snuck out late and the girls caught her. Ima said that they're still grounded and that she was going to tell the professor. Blossom told Ima that he went out to the store and everything fell into place. Then Bubbles takes off her hair (wig), who turns out to be Sedusa.
Trivia
Ima Goodlady did not exist, as she was really the evil Sedusa in disguise.
Her name is a pun on "I'm a good lady".